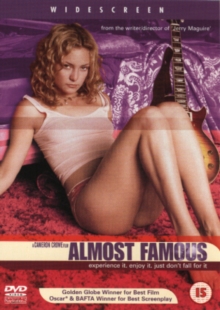 English, Spanish, Portuguese
(15) Suitable for 15 years and over.
15-year-old high school student William Miller (Patrick Fugit) has just won the chance to write a story about Stillwater, an up-and-coming rock band, for Rolling Stone magazine.
So he joins the band on tour, makes friends with lead guitarist Russell Hammond (Billy Crudup) and groupie Penny Lane (Kate Hudson), and gets himself a ringside seat for some classic 1970s rock excesses.
But with Rolling Stone demanding a story that could very well cause him to betray his newfound friends, his over-protective mother (Frances McDormand) keeping a regular check on him, and tensions within the band reaching breaking point, William finds that he must tread very carefully indeed.
Bonus Tracks: 'Fever Dog' music video by Stillwater.