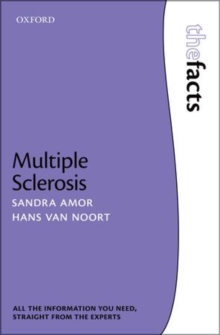 Multiple sclerosis
Part of the The facts series
0199652570 / 9780199652570
Usually dispatched within 4 weeks
Multiple Sclerosis (MS) is thought to affect almost 2.5 million people worldwide.
With the arrival of several new MS drugs and increased availability of information on the internet, many people are confronted by an overwhelming number of information sources about how best to manage their condition.
This new book explains, in a clear and accessible way, what is currently known about MS.
It provides an explanation of the disease process, symptoms, diagnosis, and howdrugs and alternative approaches to disease management work.
It also provides supplementary information on how lifestyle and diet changes may help. Multiple Sclerosis: The Facts addresses the most frequently asked questions about MS, and provides answers in an easy-to-read and accessible format.
The book is an invaluable resource for people with MS, and their families and health care workers will also find it a go-to guide to help understand the disease more clearly.
This book will also be of interest to medical students and MS researchers.
BIC:
MBGR Medical research, MBPC General practice, MFN Medical genetics, VFD Popular medicine & health