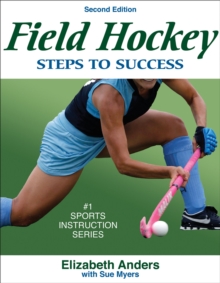 Field hockey : steps to success (2nd ed)
0736068376 / 9780736068376
Enter the game with confidence, knowing you've mastered the essentials.
Field Hockey: Steps to Success combines a comprehensive, progressive approach with in-depth instruction, illustrations, and 86 drills. Master coach and field hockey legend Elizabeth Anders details the step-by-step program that will teach you how to develop these skills: Score more goals by developing better shooting techniques.
Improve ball control and dribbling. Establish solid passing and receiving skills. Develop better footwork and balance for improved stick handling.
Employ attacking and defensive tactics. Become a better goalkeeper through correct positioning and increased awareness in the net. Whether you are new to the sport or seeking new techniques to add to your arsenal, Field Hockey: Steps to Success-part of the popular Steps to Success Series that has sold more than 1.5 million copies-will help you improve every aspect of your game. ContentsStep 1: Balance and Footwork Step 2: Passing and Receiving Step 3: Controlling the Ball and Dribbling Step 4: Tackling Step 5:Shooting Step 6: Goalkeeping Step 7: Leading the Attack and Defense Step 8: Supporting the Lead Attacker Step 9: Supporting the Lead Defender Step 10: Organizing the Team's System of Play Step 11: Functional Training
BIC:
Title Unavailable: Out of Print