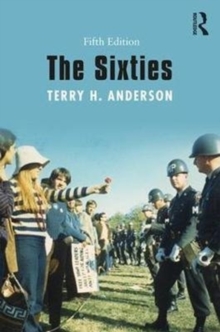 The sixties (Fifth edition)
1138244031 / 9781138244030
236 pages : illustrations (black and white)
The Sixties is a stimulating account of a turbulent age in America.
Terry Anderson examines why the nation experienced a full decade of tumult and change, and he explores why most Americans felt social, political and cultural changes were not only necessary but mandatory in the 1960s. The book examines the dramatic era chronologically and thematically and demonstrates that what made the era so unique were the various social "movements" that eventually merged with the counterculture to form a "sixties culture," the legacies of which are still felt today.
The new edition has added more material on women and the GLBTQ community, as well as on Hispanic or Latino/a community, the fastest-growing minority in the United States.
BIC:
1KBB USA, 3JJPK c 1960 to c 1970, HBJK History of the Americas, HBLW3 Postwar 20th century history, from c 1945 to c 2000