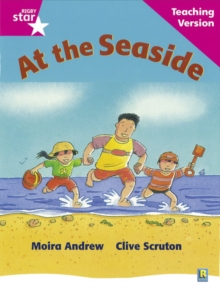 At the seaside, Moira Andrew, Clive Scruton: Teaching version (New edition)
0433046600 / 9780433046608
22 cm 9 pages : illustrations (black and white)
"Pink Level A"--Back cover "Working towards level 1"--Back cover. Text on inside cover.
Part of Rigby Star Guided series this is the only programme built specifically for guided reading.
Its rich, multi-layered stories and non-fiction texts by top quality authors and illustrators are guarantreed to captivate children and facilitate discussion.
BIC: