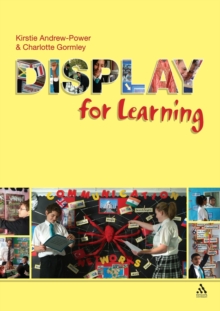 Display for learning
1855394502 / 9781855394506
Stock expected by 05/04/2020
30 cm vi, 102 p., [4] p. of plates : ill. (some col.)
Display has long been seen as a tool for learning in primary schools but this practical and timely book shows its value in whole school improvement for secondary and post-16.
Walking through an entrance hall speaks volumes about the ethos of a school.
The physical environment supported by display and signs allow visitors to make a judgement about the school and this judgement, correctly or not, will be based on what the visitor first sees.
In some schools this first impression exudes positivism - display celebrates achievement and success, there are images of happy learners, learning focused signs and statements, and the environment seems cared for and respected.
In others, negative statements confront visitors, the environment is neglected and unloved, there are no references to learning in the entrance to the school.The current educational agenda identifies learner wellbeing as the key determinant in achievement and outcome.
How the learning environment is designed can have a huge impact on wellbeing.
One particular aspect that has a powerful influence on this environment is the use of display space. Managed well, it can create a climate where students feel valued and nurtured, and can achieve beyond their potential.Display should transcend simple physical appearance.
Successful and meaningful display reflects the ethos of a school, and an exciting, learning-focused environment makes for excited learners.
An environment that mirrors respect and care makes learners feel cared for and respected by the place in which they learn.
This positively impacts on how well students learn, how happy they are as they learn and the respect and care with which they treat their school; the same applies to staff.
The signs used around schools and the messages that signage and display deliver are key to a learning-focused climate and they reinforce a school's ethos.
Care for the school environment and classrooms shows care for the students, and for teachers and other staff.
This impression is quickly passed to parents and visitors to the school.This book aims to address a gap in the market for secondary school leaders and teachers (with transferable lessons for primary and 16 - 19 colleges) and provide a toolkit to develop display for learning with strategies and solutions, within the context of the school improvement and transformation agenda. The book aims to inspire colleagues in schools to develop this in their classrooms and on a whole school level - with the motivation and justification for doing so.
BIC:
JNLC Secondary schools, JNV Educational equipment & technology, computer-aided learning (CAL)