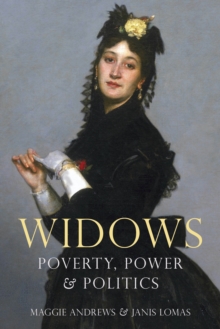 Widows : poverty, power & politics
0750990104 / 9780750990103
24 cm 239 pages : illustrations (black and white)
Historically seen as figures of pity and foreboding - poverty stricken receivers of charity, tragic figures dressed in black and even sometimes sexually voracious predators or witches - widows have been subject to powerful stereotypes that have endured for centuries.
But for many women, widowhood unfolded into a vastly more complex story.
From being property of men and housekeepers - the owners of nothing - they found themselves suddenly enfranchised, empowered and free to conduct themselves however they wished.
From suffrage campaigners and politicians, to entrepreneurs and newly self-made women, the effect of widows' might can be seen throughout history.
In Widows historians Maggie Andrews and Janis Lomas pull together the stories of fascinating women, both famous and unknown, and their exploits after being widowed.
They show how throughout history widows have carried on with everyday life in the face of poverty or isolation, their struggles for political power and the ways that many of them have contributed to improving the lives of women today.
BIC:
HBTB Social & cultural history, JFSJ1 Gender studies: women, JHBK Sociology: family & relationships