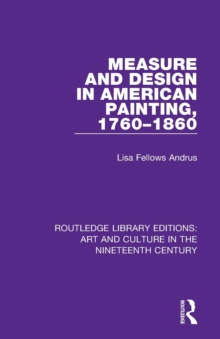 Measure and design in American painting, 1760-1860
1138366315 / 9781138366312
Postgraduate, Research & Scholarly Learn More
Undergraduate
Reprint. Originally published: New York: Garland Pub., 1977.
First published in 1977. The purpose of this study is to locate the sources for the American style of painting characterised by measure and design - the representation of the specific and familiar according to principles of pictorial order.
The reader shall see that there were a variety of conventions available to the artist and that his selection of one or another of them depended upon pragmatic, philosophical, and aesthetic considerations.
BIC:
1KBB USA, ACQ History of art & design styles: c 1600 to c 1800, AFC Painting & paintings, HBTB Social & cultural history