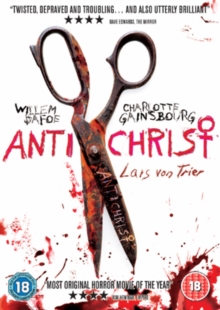 (18) Suitable for 18 years and over.
Lars von Trier's controversial exploration of depression, guilt and sexuality stars Willem Dafoe and Charlotte Gainsbourg as a couple grieving the death of their young son.
The mother is initially admitted to hospital following the incident, but her husband - a therapist - insists on taking her to their remote forest cabin, 'Eden', and looking after her himself.
Presented in four chapters with a prologue and epilogue, the film charts the often violent and disturbing course of the couple's anguish as they immerse themselves in nature and act out their deep suffering in a sequence of increasingly bizarre and brutal rituals.
Interviews: Charlotte Gainsbourg, Willem Dafoe
Commentary: Lars von Trier (Director)