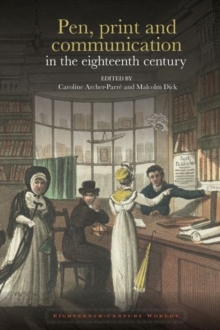 Pen, print and communication in the eighteenth century
1789622301 / 9781789622300
Usually dispatched within 4 weeks
163 x 239 mm 256 pages, 35 Illustrations, black and white
During the eighteenth century there was a growing interest in recording, listing and documenting the world, whether for personal interest and private consumption, or general record and the greater good.
Such documentation was done through both the written and printed word.
Each genre had its own material conventions and spawned industries which supported these practices.
This volume considers writing and printing in parallel: it highlights the intersections between the two methods of communication; discusses the medium and materiality of the message; considers how writing and printing were deployed in the construction of personal and cultural identities; and explores the different dimensions surrounding the production, distribution and consumption of private and public letters, words and texts during the eighteenth-century.
In combination the chapters in this volume consider how the processes of both writing and printing contributed to the creation of cultural identity and taste, assisted in the spread of knowledge and furthered personal, political, economic, social and cultural change in Britain and the wider-world.
This volume provides an original narrative on the nature of communication and brings a fresh perspective on printing history, print culture and the literate society of the Enlightenment.
BIC:
DSBD Literary studies: c 1500 to c 1800, HBTB Social & cultural history
* Variable discounts between 0% and 15% are applied to items where BBfS cannot determine exact discounts from suppliers.