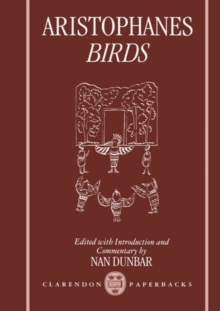 Birds
0198150830 / 9780198150831
Stock expected by 18/12/2019
Reprint. This ed. originally published: 1995.
'Aristophanes adicts unite! This book is for us. It has everything that we always wanted to know about Birds and we were unable to find in one place.' Greek Gazette 'The commentary elucidates with an experts knowledge of syntax, meter, and artifacts...The volume will remain authoritative for generations.' Religious Studies Review This is the first comprehensive edition in any language of the Birds, a play generally recognized as one of Aristophanes' masterpieces - both for its imaginative plot and for the charm and originality of its lyrics.
The commentary gives generous help with the translation, to cater for the less advanced student of Greek, and also with interpretation and the lyric metres, as well as fully discussing the staging.
It uses the resources of modern ornithology to elucidate Aristophanes' references to birds.
The introduction discusses the nature of the play; its historical and mythological background; the history of the text, including the contributions of ancient scholars recorded in the scholia, which are exceptionally important in this play; and also more recent scholarship.
BIC:
2AHA Ancient (Classical) Greek, DD Plays, playscripts, DSBB Literary studies: classical, early & medieval, DSG Literary studies: plays & playwrights