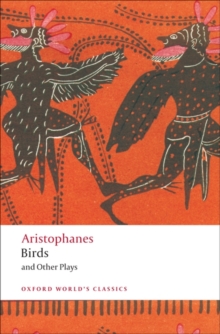 0199555672 / 9780199555673
Reprint. This translation originally published: 1997. Cover and spine title: Birds and other plays.
Aristophanes is the only surviving representative of Greek Old Comedy, the exuberant, satirical form of festival drama which flourished during the heyday of classical Athenian culture in the fifth century BC. His plays are characterized by extraordinary combinations of fantasy and satire, sophistication and vulgarity, formality and freedom.
Birds is an escapist fantasy in which two dissatisfied Athenians, in defiance of men and gods, bring about a city ofbirds, the eponymous Cloudcuckooland.
In Lysistrata the heroine of the play organizes a sex-strike and the wives of Athens occupy the Akropolis in an attempt to restore peace to the city.
The main source of comedy in the Assembly-Women is a similar usurpation of male power as the women attempt to reformAthenian society along utopian-communist lines.
Finally, Wealth is Aristophanes' last surviving comedy, in which Ploutos, the god of wealth is cured of his blindness and the remarkable social consequences of his new discrimination are exemplified.
This is the first complete verse translation of Aristophanes' comedies to appear for more than twenty-five years and makes freshly available one of the most remarkable comic playwrights in the entire Western tradition, complete with an illuminating introduction including play by play analysis and detailed notes.
ABOUT THE SERIES: For over 100 years Oxford World's Classics has made available the widest range of literature from around the globe.
Each affordable volume reflects Oxford's commitment to scholarship, providing the most accurate text plus a wealth of other valuable features, including expert introductions by leading authorities, helpful notes to clarify the text, up-to-date bibliographies for further study, and much more.
BIC:
2AHA Ancient (Classical) Greek, 4KL Designed / suitable for A & AS Level, DD Plays, playscripts, DSBB Literary studies: classical, early & medieval, DSG Literary studies: plays & playwrights