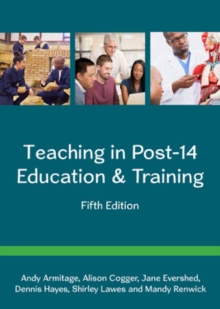 Teaching in post-14 education & training (Fifth edition)
0335261841 / 9780335261840
24 cm xvi, 320 pages : illustrations (black and white)
Teaching in Post-14 Education & Training provides a skilfully balanced mix of essential theory and practical guidance to support you if you are studying an 'education and training' qualification.
It covers fundamental background information such as key philosophies and concepts, current policy and practice, key thinkers and ideas, and includes a useful chronology. More importantly it also provides the tools to help you approach the classroom with confidence, covering fundamental issues such as teaching and learning, assessment, resources, and course design. Through its pedagogical features the book also offers you opportunities to pause and reflect, as well as practical exercises, templates and examples of student work. Key features of this new edition include:* Links to the latest Professional Standards for Teachers and Trainers* Updating of the legislative and policy context* Supporting learning with technology* Planning for equality and diversity* Embedding language and literacyThis is the definitive textbook on teaching, learning and assessment for those training to work in the post-14 sector. "The latest edition of this popular book helps educators to reclaim their professional identity through stretching and thought-provoking commentary and critical questioning ...
This is a valuable resource for students and teachers alike.
It provides a useful framework for assignment and classroom work, balancing theory and practical teaching strategies."In Tuition, Issue 24/Summer 2016
BIC:
JNP Adult education, continuous learning, JNR Careers guidance