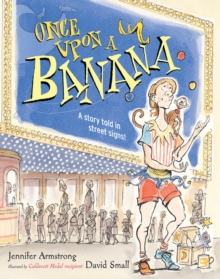 0689859511 / 9780689859519
Usually dispatched within 4 weeks
229 x 292 mm, 222 grams 48 pages
Everyday street signs act as deadpan captions for the slapstick happenings in this ingenious picture book that is hilariously told in street signs. Go!

The sign says: Put litter in its place. But someone isnt paying attention. He drops a banana peel on the groundand a series of comical slips, spills, and falls are set hilariously into motion. First the grocer, then the painter, next the bicycle messenger, and thenoh, nonot the baby in the carriage! An entire town turned upside down, all by a banana peel!

Caldecott Medalist David Small and award-winning author Jennifer Armstrong have created a roller-coaster ride of a picture book told in rhyming street signs that will tickle and delight readers from beginning to end, over and over again.
BIC: