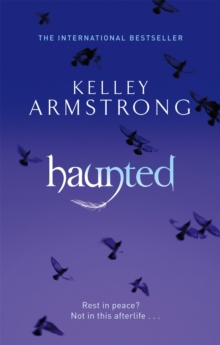 Haunted : Kelley Armstrong
0356500179 / 9780356500171
Reprint. Originally published: 2005.
'Those who appreciate heroines with a good measure of spunk, sass and strong-arm savvy will find this a fun if fitful read.' - Publishers Weekly'Mesmerizing . . . the 'other-worldly' atmosphere conjured up by Armstrong begins to seem strangely real.
Armstrong is a talented and original writer whose inventiveness and sense of the bizarre is arresting.' - The London Free PressEve Levine - half-demon, black witch and devoted mother - has been dead for three years.
She has a great house, an interesting love life and can't be killed again - which comes in handy when you've made as many enemies as Eve.
Yes, the afterlife isn't too bad - all she needs to do is find a way to communicate with her daughter Savannah and she'll be happy.
But fate - or more exactly, the Fates - have other plans.
Eve owes them a favour, and they've just called it in.
An evil spirit called the Nix has escaped from hell.
She feeds on chaos and death, and is very good at persuading people to kill for her.
The Fates want Eve to hunt her down before she does any more damage, but the Nix is a dangerous enemy - previous hunters have been sent mad in the process.
As if that's not problem enough, it turns out that the only way to stop her is with an angel's sword. And Eve's no angel . . . A brilliant novel of suspense with a supernatural twist - packaged in the stunning new Kelley Armstrong series style. Books by Kelley Armstrong: Women of the Otherworld series Bitten Stolen Dime Store Magic Industrial Magic Haunted Broken No Humans Involved Personal Demon Living with the Dead Frost Bitten Walking the Witch Spellbound Thirteen Nadia Stafford Exit Strategy Made to be Broken Wild JusticeRocktonCity of the LostA Darkness AbsoluteThis Fallen PreyWatcher in the WoodsAlone in the Wild Darkest Powers The Summoning The Awakening The Reckoning Otherworld Tales Men of the Otherworld Tales of the Otherworld Otherworld Nights Otherworld Secrets Otherworld Chills Darkness Rising The Gathering The Calling The Rising Cainsville Omens Visions Deceptions Betrayals Rituals
BIC: