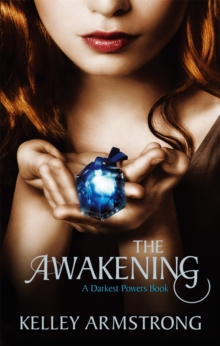 The awakening
1907410074 / 9781907410079
Reprint. Originally published: London: Orbit, 2009.
'[The Awakening] hits the ground running, leaving readers tripping, stumbling and racing to keep up....
Will exhilarate even readers new to the series.' - Kirkus, starred review'Armstrong has some fun toying with supernatural teen thriller conventions, and the taut pacing should please fans of the exploding genre.' - BooklistChloe Saunders used to be a normal teenage girl - or so she thought.
Then she learned the shocking truth - she is a walking science experiment.
Genetically altered at birth by a sinister group of scientists known as the Edison Group, Chloe is an aberration - a powerful necromancer who can see ghosts and even raise the dead, often with terrifying consequences.
Even worse, her growing powers have made her a threat to the surviving members of the Edison Group, who have decided it's time to end their experiment - permanently . . . Now Chloe is running for her life with three other supernatural teenagers - a charming sorcerer, a troubled werewolf and a temperamental young witch.
Together they have a chance for freedom - but can Chloe trust her new friends?The second book in the stunning Darkest Powers trilogy, The Awakening is a powerful and gripping story from bestselling author Kelley Armstrong. Books by Kelley Armstrong:Women of the Otherworld seriesBittenStolenDime Store MagicIndustrial MagicHauntedBrokenNo Humans InvolvedPersonal DemonLiving with the DeadFrost BittenWalking the WitchSpellboundThirteenNadia StaffordExit StrategyMade to be BrokenWild JusticeRocktonCity of the LostA Darkness AbsoluteThis Fallen PreyWatcher in the WoodsAlone in the WildDarkest PowersThe SummoningThe AwakeningThe ReckoningOtherworld TalesMen of the OtherworldTales of the OtherworldOtherworld NightsOtherworld SecretsOtherworld ChillsDarkness RisingThe GatheringThe CallingThe RisingCainsvilleOmensVisionsDeceptionsBetrayalsRituals
BIC: