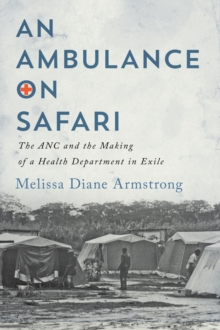 An Ambulance on Safari : The ANC and the Making of a Health Department in Exile
022800330X / 9780228003304
152 x 229 mm 344 pages, 14 images, 7 maps
Professional & Vocational Learn More
Tertiary Education (US: College)
During the apartheid era, thousands of South African political activists, militants, and refugees fled arrest by crossing into neighbouring southern African countries.
Although they had escaped political oppression, many required medical attention during their period of exile.
An Ambulance on Safari describes the efforts of the African National Congress (ANC) to deliver emergency healthcare to South African exiles and, in the same stroke, to establish political legitimacy and foster anti-apartheid sentiment on an international stage.
Banned in South Africa from 1960 to 1990, the ANC continued its operations underground in anticipation of eventual political victory, styling itself as a "government in waiting." In 1977 it created its own Health Department, which it presented as an alternative medical service and the nucleus of a post-apartheid healthcare system.
By publicizing its own democratic policies as well as the racist practices of healthcare delivery in South Africa, the Health Department won international attention for its cause and provoked widespread condemnation of the apartheid state.
While the global campaign was unfolding successfully, the department's provision of healthcare on the ground was intermittent as patients confronted a fledgling medical system experiencing various growing pains.
Still, the legacy of the department would be long, as many medical professionals who joined the post-apartheid Department of Health in South Africa had been trained in exile during the liberation struggle.
With careful attention to both the international publicity campaign and on-the-ground medical efforts, An Ambulance on Safari reveals the intricate and significant political role of the ANC's Health Department and its influence on the anti-apartheid movement.
BIC:
* Variable discounts between 0% and 15% are applied to items where BBfS cannot determine exact discounts from suppliers.
Other Formats