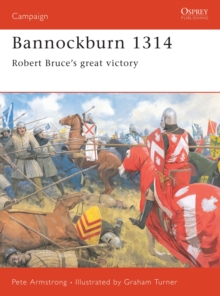 Bannockburn 1314 : Robert Bruce's great victory
1855326094 / 9781855326095
Usually dispatched within 4 weeks
25 cm 96 p. : ill. (some col.)
The full story surrounding the battle that represented the climax of the career of King Robert the Bruce, and has since remained the most famous battle in Scottish history - the Battle of Bannockburn.
In 1307 King Edward I of England, "The Hammer of the Scots" and William Wallace's nemesis, died at Burgh-on-Sands.
His son, Edward II, was not from the same mould; incorrigibly idle and apathetic, he refused to take on the burdens of kingship, surrounding himself with favourites.
The Scots under Robert the Bruce now had a chance to recover from the grievous punishment Edward I had inflicted upon them.
By 1313 Bruce had capture every English-held castle bar Stirling.
Faced with the complete collapse of the English position in Scotland even Edward II had no choice but to respond.
BIC:
1DBKS Scotland, 3H c 1000 CE to c 1500, HBJD1 British & Irish history, HBLC Early history: c 500 to c 1450/1500, JWLF Battles & campaigns