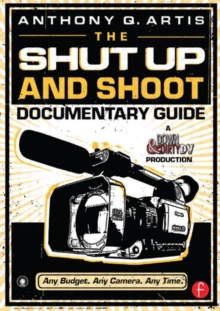 The shut up and shoot documentary guide : a down & dirty DV production
0240809351 / 9780240809359
So you want to make a documentary, but think you don't have a lot of time, money, or experience?
It's time to get down and dirty! Down and dirty is a filmmaking mindset. It's the mentality that forces you to be creative with your resources.
It's about doing more with less. Get started NOW with this book and DVD set, a one-stop shop written by a guerrilla filmmaker, for guerrilla filmmakers.
You will learn how to make your project better, faster, and cheaper.
The pages are crammed with 500 full-color pictures, tips from the pros, resources, checklists and charts, making it easy to find what you need fast. The DVD includes: * Video and audio tutorials, useful forms, and interviews with leading documentary filmmakers like Albert Maysles (Grey Gardens), Sam Pollard (4 Little Girls), and others * 50+ Crazy Phat Bonus pages with jump start charts, online resources, releases, storyboards, checklists, equipment guides, and shooting procedures Here's just a small sampling of what's inside the book: * Putting together a crew * Choosing a camera * New HDV and 24P cameras * Shooting in rough neighborhoods * Interview skills and techniques * 10 ways to lower your budget * Common production forms Note: if you purchased an ebook version of The Shut Up and Shoot Documentary Guide, the material from the DVD packaged with the print version of the book is now available on a website.
Please visit: www.focalpress.com/cw/artis-9780240809359
BIC: