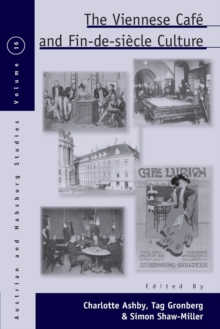 The Viennese cafâe and fin-de-siáecle culture
1782389261 / 9781782389262
256 pages : illustrations (black and white).
Postgraduate, Research & Scholarly Learn More
Undergraduate
Reprint. Originally published: 2013.
The Viennese cafe was a key site of urban modernity around 1900.
In the rapidly growing city it functioned simultaneously as home and workplace, affording opportunities for both leisure and intellectual exchange.
This volume explores the nature and function of the coffeehouse in the social, cultural and political world of fin-de-siecle Vienna.
Just as the cafe served as a creative meeting place within the city, so this volume initiates conversations between different disciplines focusing on Vienna 1900.
Contributions are drawn from the fields of social and cultural history, literary studies, Jewish studies and art, and architectural and design history.
A fresh perspective is also provided by a selection of comparative articles exploring coffeehouse culture elsewhere in Eastern Europe.
BIC:
1DFA Austria, 3JH c 1800 to c 1900, 3JJC c 1900 - c 1914, HBJD European history, HBLL Modern history to 20th century: c 1700 to c 1900, HBLW 20th century history: c 1900 to c 2000, HBTB Social & cultural history