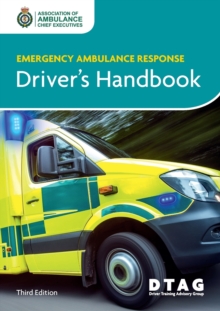 Emergency ambulance response driver handbook (Third edition)
1859596606 / 9781859596609
The third edition of the Emergency Ambulance Response Driver's Handbook is the essential resource for all professional drivers of ambulances.
It provides drivers with a safe and effective basis for their driving practice as well as an understanding of how to minimise any risk to ambulance drivers, passengers and other road users. The book is designed to serve as both an introductory resource for self-learning or alongside a training course as well as a text which can help to refresh and enhance your existing knowledge.
Since the publication of the second edition in 2014, the book has been comprehensively reviewed by a team of healthcare professionals and brought up to date with the newest regulations and best practice advice.
With an additional four chapters, this book forms a vital part of the training of any driver of emergency response vehicles. The third edition of the Emergency Ambulance Response Driver's Handbook includes: New chapters on Driving Commentary, Re-Prioritisation of Calls, Navigation and Smart MotorwaysUp-to-date chapters on Legal Exemptions and Non-Exemptions, Driver Responsibility, Vehicle Inspections and Safety Systems, Attending Incidents and Eco-DrivingLearning outcomes at the beginning of each chapterUp-to-date legislation and current guidanceNew chapters on Driving Commentary, Re-prioritisation of Calls, Navigation and Smart MotorwaysFull colour images to clarify driving advice and regulationsKnowledge recap questions at the end of each chapter About the authorshipThis handbook was initiated by the Driver Training Advisory Group (DTAG) and is endorsed by the Association of Ambulance Chief Executives (AACE), who recommend that is used for ambulance driver instruction and education. ContentsThe Law in Relation to Ambulance DrivingLegal Exemptions and Non-ExemptionsDriver Characteristics and ResponsibilitiesDriving CommentaryVehicle Daily Inspections and Pre-Driving ChecksAutomatic GearboxesVehicle Operating and Safety SystemsAudible and Visual WarningsLighting RegulationsReversing and ManoeuvringRe-prioritisation of CallsNavigationAttending IncidentsSmart MotorwaysEco-Driving
BIC: