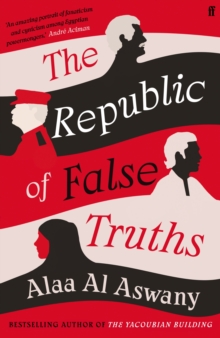 The republic of false truths
0571347592 / 9780571347599
Translated from the Arabic.
From the bestselling author of The Yacoubian Building'Superb' Sunday Times'Searing' Daily Mail'Blistering' Financial Times'Glorious' Observer'Amazing' Andre AcimanGeneral Alwany is a pious man who loves his family.
He also tortures and kills enemies of the state. Under the regime of Hosni Mubarak, Egypt is gripped by cronyism, religious hypocrisy, and the oppressive military.
Now, however, the regime faces its greatest crisis. The idealistic young from different backgrounds - engineers, teachers, medical students, and among them the general's daughter - have come together to challenge the status quo.
Euphoria mounts as Mubarak is toppled and love blossoms across class divides, but the general and his friends mount a devastating counter-attack.
BIC: