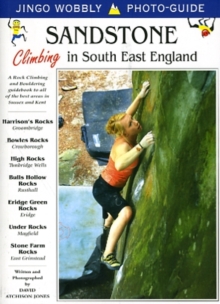 Sandstone : climbing in south east England (2nd ed)
1873665148 / 9781873665145
This title provides all climbers and boulderers living or visiting the South East, a guidebook to the nine top popular areas that have suitable easy public access.
It is the first in a new generation of "Jingo Wobbly Photo" guidebooks that uses exceptionally high quality professional photography for crag illustration, and is supported by superb action photography with around 100 action shots.
The guidebook is completely definitive to the 9 outcrops, and has been put together by team Jingo Wobbly that consists of some 50 climbers and boulderers.
They are all local climbers who have lived and climbed in the area for years and know the rocks inside out, and are responsible for many of the first ascents.
The book has been designed for ease of use, and should perfectly suit anyone visiting for the first time.
It is a very easy to use, modern photo topo climbing guidebook with exceptional clarity in printing.
Each page has the routes listed in order of difficulty, making it very friendly to newcomers.
All of the routes are marked on the photos, show their climbing grades, and also have descriptions. Excellent maps to all of the climbing locations are included, along with all SAT NAV details. 100 climbing action shots will entice anyone to get out climbing.
It has plenty of humour in the text with 'local chat' sections, but also full details on environmental care.
BIC: