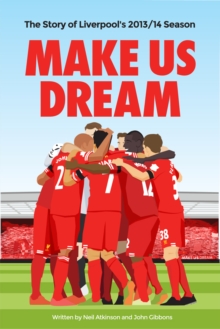 Make us dream : the story of Liverpool's 2013/14 season
1909245216 / 9781909245211
Liverpool's 2013/14 campaign was no ordinary football season. It was the season when everything changed. A year of hope, fantasy, adventure; where joyous reclamation met crushing disappointment and won.
A season defined by many individuals, moments, goals and memories. A time when the brand of heroic and daring football - and footballers - that seemed consigned to the sepia toned era of the game's past returned.
It was a season when millions of Liverpool supporters dared to dream again. And yet as records tumbled and players wowed, it was a season that ultimately transcended football, in which a fanbase were reminded what they love most about the game and their club: excitement, spirit and pride.
In Make Us Dream, The Anfield Wrap's Neil Atkinson and John Gibbons take us on a journey through Liverpool's most remarkable Premier League season.
In a journey that takes them from Melbourne to Merseyside and all places in between, they detail the explosion of belief from Liverpool's worldwide diaspora. Demonstrating how Liverpool's season impacted a club and support at a crossroads between its past and football's future, the authors are joined by a series of guest writers, sharing their own impressions and experiences.
Between them they create a compelling and passionate narrative of a club, city and supporter base having the most fun in the world.
BIC: