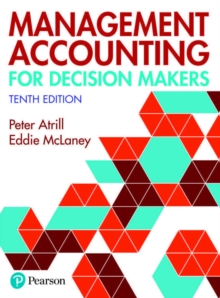 Management accounting for decision makers (Tenth editon)
129234945X / 9781292349459
27 cm xxi, 605 pages : illustrations (colour)
For Management Accounting modules on undergraduate and MBA courses. Understand management accounting principles and techniques, and develop skills to make informed business decisions Management Accounting for Decision Makers 10th Edition by Peter Atrill and Eddie McLaney teaches you how to make the best choices in business and management roles, and introduces you to essential management accounting concepts and methods with a focus on their significance to real-life decision making.
It has never been more important for businesses to operate within a framework of strategic planning and decision making.
This popular text makes management accounting relevant and practical through its use of real numerical accounting techniques, an increased number of exercises that encourage you to learn in an active way, and through a range of relevant, real-world examples, many of which are new to this edition. "A plethora of relevant real-world examples, self-assessment activities and helpful visuals make this an engaging and practical read for students and educators alike!" Dr Christos Begkos, Assistant Professor in Management Accounting, Alliance Manchester Business School. "This text provides a very clear, comprehensive and highly informative introduction to management accounting, and it has consistently proved to be very popular with both accounting & finance and business management students studying management accounting for the first time."Martyn Jones, Senior Lecturer in Accounting, University of Winchester Also available with MyLab Accounting MyLab (TM) is the teaching and learning platform that empowers you to reach every student.
By combining trusted author content with digital tools and a flexible platform, MyLab personalizes the learning experience and improves results for each student.
MyLab Accounting for this textbook includes 980 questions to assign to your students, now including a larger number of algorithmic questions (more than 350) that require different numerical responses from different individuals.
There are now also 6 additional Case Studies in MyLab Accounting which help students see the impact of the theory as it is applied in the business environment. Note: You are purchasing a standalone product; MyLab Accounting does not come packaged with this content.
Students, if interested in purchasing this title with MyLab Accounting, ask your instructor to confirm the correct package ISBN and Course ID.
Instructors, contact your Pearson representative for more information. If you would like to purchase both the physical text and MyLab Accounting search for: 1292349530 / 9781292349534 Management Accounting for Decision Makers 10th edition with MyLab Accounting Package consists of: 129234945X / 9781292349459 Management Accounting for Decision Makers 10th Edition 1292349476 / 9781292349473 Management Accounting for Decision Makers 10th Edition MyLab Accounting 1292349484 / 9781292349480 Management Accounting for Decision Makers 10th Edition Pearson eText Pearson, the world's learning company.
BIC: