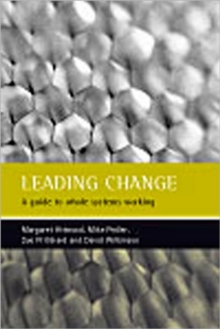 Leading change : a guide to whole systems working
186134449X / 9781861344496
Stock expected by 14/12/2019
postgraduate Learn More
research & professional
undergraduate
There is continuing government pressure on public services to "reform".
Expectations of new forms and standards of delivery, joined-up practice and the reconnection of services to users are high.
Unfortunately, many policy makers have become reliant on mechanistic top-down audit and inspection regimes as the means of implementation.
This book sets out to redress the balance. It argues powerfully that whole systems approaches are required to lead the changes towards the demands for new service configurations, partnership working and local and neighbourhood governance.
The book outlines the theory behind whole systems development and gives good practice guidance on how to effectively develop "systems" to improve joined-up working. "Leading Change": explores the "five keys" to whole systems development - leadership, public learning, diversity, meeting differently and follow-through; sets this in the context of five policy dilemmas and ten core values; and looks towards new forms of organising - towards communities of practice and managed networks. This book should be read by both policy-makers and practitioners across the public, private, not-for-profit, voluntary and community sectors, and especially the many who are seeking a better way to manage change.
It is written in the hope and anticipation of reconnecting policy and practice, and all those engaged in these vital fields.
BIC: