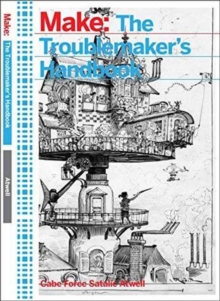 The Troublemaker's Handbook
1680451596 / 9781680451597
150 x 250 mm, 666 grams 180 pages
Achieve instant electronic mastery! This world demands skill with electronics. Familiarity with the basic components can give one a leg up into the core of technology.
The future depends on this, so why not cause a little trouble in the process?
From harnessing light, to controlling sound, to sensing the world, this book is a step-up from plug and play kits.
The pre-engineers who read this book will build advanced electronics projects from scratch, demystifying electrical components in the process.
Once this world opens, anything is possible. The Troublemaker's Handbook, is a collection of projects making an instant guru of the reader.
The projects are some of first a budding electrical engineer should learn, or at least try.
The concepts behind these projects can transcend into an adulthood of professional engineering.
The book is packed with 100+, projects that will give the reader a resource that can aid them in the future, making just about anything.
BIC:
* Variable discounts between 0% and 15% are applied to items where BBfS cannot determine exact discounts from suppliers.