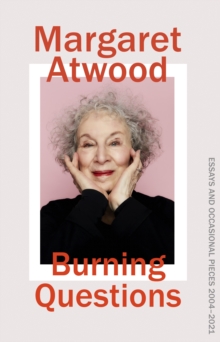 Burning questions : essays and occasional pieces 2004-2021
1784744514 / 9781784744519
General (US: Trade) Learn More
Professional & Vocational
Tertiary Education (US: College)
From cultural icon Margaret Atwood comes a brilliant collection of essays -- funny, erudite, endlessly curious, uncannily prescient -- which seek answers to Burning Questions such as: Why do people everywhere, in all cultures, tell stories?How much of yourself can you give away without evaporating?How can we live on our planet?
Is it true? And is it fair?What do zombies have to do with authoritarianism?In over fifty pieces Atwood aims her prodigious intellect and impish humour at our world, and reports back to us on what she finds.
The roller-coaster period covered in the collection brought an end to the end of history, a financial crash, the rise of Trump and a pandemic.
From debt to tech, the climate crisis to freedom; from when to dispense advice to the young (answer: only when asked) to how to define granola, we have no better questioner of the many and varied mysteries of our human universe. 'Brilliant and funny' Joan Didion'She's taken our times and made us wise to them' Ali Smith'Lights a fire from the fears of our age . . . Miraculously balances humor, outrage, and beauty' New York Times Book Review'All over the reading world, the history books are being opened to the next blank page and Atwood's name is written at the top of it' Anne Enright, Guardian'The outstanding novelist of our age' Sunday Times** A 2022 Book to Look Forward To in The Times, i, Financial Times, Guardian, Evening Standard, New Statesman, Cosmopolitan and SheerLuxe **
BIC:
3JM 21st century, DNF Literary essays, DSK Literary studies: fiction, novelists & prose writers, JP Politics & government, RNT Social impact of environmental issues