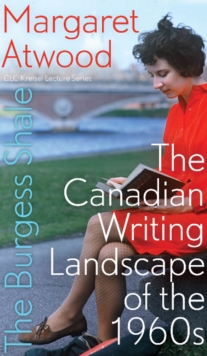 The Burgess Shale : the Canadian writing landscape of the 1960s
1772123013 / 9781772123012
Usually dispatched within 4 weeks
"The outburst of cultural energy that took place in the 1960s was in part a product of the two decades that came before.
It's always difficult for young people to see their own time in perspective: when you're in your teens, a decade earlier feels like ancient history and the present moment seems normal: what exists now is surely what has always existed." Margaret Atwood compares the Canadian literary landscape of the 1960s to the Burgess Shale, a geological formation that contains the fossils of many strange prehistoric life forms.
The Burgess Shale is not entirely about writing itself, however: Atwood also provides some insight into the meagre writing infrastructure of that time, taking a lighthearted look at the early days of the institutions we take for granted today-from writers' organizations, prizes, and grant programs to book tours and festivals.
BIC:
1KBC Canada, 2AB English, 3JJPK c 1960 to c 1970, DSB Literary studies: general, JFCA Popular culture, KNTP Publishing industry & book trade, WH Humour
* Variable discounts between 0% and 15% are applied to items where BBfS cannot determine exact discounts from suppliers.