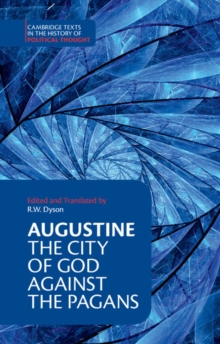 The city of God against the pagans
0521468434 / 9780521468435
This is the first new rendition for a generation of The City of God, the first major intellectual achievement of Latin Christianity and one of the classic texts of Western civilisation.
Robert Dyson has produced a complete, accurate, authoritative, and fluent translation of De civitate dei, edited together with full biographical notes, a concise introduction, bibliography, and chronology of Augustine's life.
The result is one of the most important single contributions to the Cambridge Texts series yet published, of interest to students of ecclesiastical history, the history of political thought, theology, philosophy, and late antiquity.
BIC: