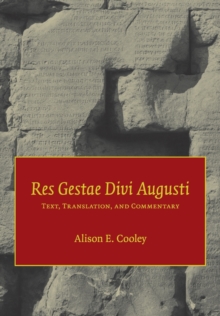 Res gestae divi Augusti
0521601282 / 9780521601283
At the end of his life the emperor Augustus wrote an account of his achievements in which he reviewed his rise to power, his conquest of the world and his unparalleled generosity towards his subjects.
This edition provides a text, translation and detailed commentary - the first substantial one in English for more than four decades - which is suitable for use with students of all levels.
The commentary deals with linguistic, stylistic and historical matters.
It elucidates how Augustus understood his role in Roman society, and how he wished to be remembered by posterity; and it sets this picture that emerges from the Res Gestae into the context of the emergence both of a new visual language and of an official set of expressions.
The book also includes illustrations in order to demonstrate how the Augustan era witnessed the rise of a whole new visual language.
BIC:
1QDH Holy Roman Empire, HBLA Ancient history: to c 500 CE, HBLA1 Classical history / classical civilisation