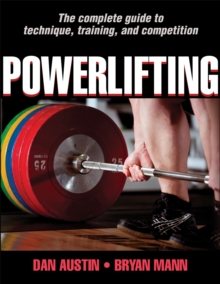 Powerlifting
0736094644 / 9780736094641
How to achieve powerlifting success? The greatest 148-pound powerlifter of all time is bringing his expertise to competitive powerlifters everywhere to help them increase their bench press, squat and deadlift.
Dan Austin, winner of nine World Powerlifting Championships and 15 US National Championships, has teamed up with Dr Bryan Mann to provide the most comprehensive powerlifting resource available.
This no-nonsense approach to what it takes to train and compete in the sport offers 100 different exercises and lifts that promote the development of the three power movements, making it a one-stop guide to powerlifting success.
Packed with technical advice covering everything from nutrition and flexibility to training tips and strategies for competition, "Complete Guide to Powerlifting Powerlifting" includes techniques and methods designed to help readers achieve their potential.
BIC: