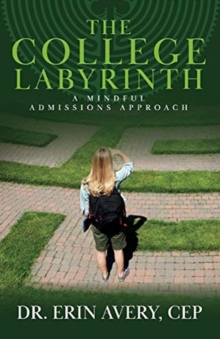 The College Labyrinth : A Mindful Admissions Approach
1098300270 / 9781098300272
9 x 215 mm, 0 grams 152 pages
Knowledge of selfa key component of the college admissions process that is also important in our respective life journeysmust originate in the practice of self-centering, which means exploring one's internal landscape and grounding one's sensibilities from within, no easy task in our postmodern moment and all its attendant pressures on the individual from without.
Currently, overemphasis on college as the only goal of students' academic outcomes collides with social media's tendency to turn individuals into consumers constantly looking outward for affirmation and answers (as in an Instagram survey on whether to buy the blue shirt or the red shirt).
Consequently, in this book Dr. Avery encourages college admissions stakeholders to shift teens' attentiveness toward their inner compasses and to provide tools to help applicants remain centered.
In The College Labyrinth: A Mindful Admissions Approach, applying Victor and Edith Turner's research on pilgrimage, in particular the concepts of liminality (the experience of abiding in a state of transition) and communitas (openness to forming tight relationships while encountering liminality with others in the midst of a like journey), Dr. Avery maps out why this process should be viewed as a sacred journey, even as a pilgrimage, and conveys the value for teens in casting the journey in this light.
In the book, Dr. Avery presents the college application process, contrary to the way it is most often perceived by American teens, as a fecund opportunity to gain a deep understanding of themselves and their gifts to the world.
Dr. Avery also explores why navigating the labyrinth (the symbolic enactment of ritual lostness that leads to a deeper understanding of the situation and the self) is such a powerful tool for centering, of rooting oneself and identity based on the inward work of one's own self-perception.
Dr. Avery also discusses why American youth so urgently need access to such tools.
Themes incorporate Judeo-Christian values to connect both ancient and modern mindfulness practices.
BIC: