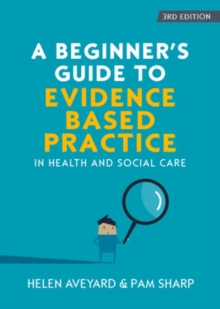 A beginner's guide to evidence-based practice in health and social care (Third edition)
0335227082 / 9780335227082
Professional & Vocational Learn More
Tertiary Education (US: College)
Previous edition: published as A beginner's guide to critical thinking and writing in health and social care. 2015.
Have you heard of 'evidence-based practice' but don't know what it means?Are you struggling with relating evidence to your practice?
Do you want a straight forward, clearly written and practical guide to evidence-based practice?This is the book for anyone who has ever wondered what evidence-based practice is, how to relate it to practice or use it in academic work.
Fully updated in this brand new edition, this book uses simple and easy to understand language to help those new to the topic.
It provides a step by step guide to what we mean by evidence-based practice and how to apply this concept to your practice and learning.
This new edition features: * Additional explanations with examples from health and social care practice, using a wider range of reviews and research* Inclusion of contemporary issues such as predatory journals, use of social media and rapid reviews * Practical solutions to the challenges of using more and better evidence in busy practice settings and in academic work* Revised and expanded useful web links highlighted throughout the book* Clearer explanations of difficult research terms and an updated glossary* New end-of-chapter quizzes to help assess how much you have learnedA Beginner's Guide to Evidence-Based Practice in Health and Social Care, 3rd Edition is key reading for both students and professionals who need to search for, appraise and apply evidence in nursing, allied health care or social care. "This highly engaging book is a 'must-have' for health professionals who want to navigate their way through the professional and scientific literature and find the best available evidence to inform their decision-making."Debra Jackson, Professor of Nursing, Oxford Brookes University, UK and University of Technology, Sydney (UTS), Australia "This 3rd edition is an ideal text for undergraduate and postgraduate students as well as clinicians wanting to extend their practice in an evidence-based manner.
It is presented in an engaging style that draws the reader in and the language is pitched to inform and educate a broad audience.
A diverse range of examples are included to highlight key points so as to appeal to readers from a range of backgrounds.
Overall this is a must-have text for a wide audience."Professor Elizabeth Halcomb, Professor of Primary Health Care Nursing, University of Wollongong, Australia
BIC: