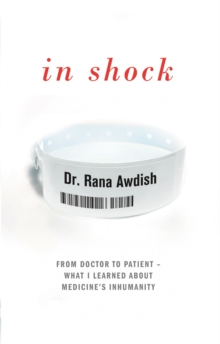 In shock : how nearly dying made me a better intensive care doctor
0593079493 / 9780593079492
Stock expected by 21/05/2021
Reprint. Originally published: New York: St Martin's Press, 2017.
'Tense, powerful and gripping... her writing style is often nothing short of beautiful - evocative and emotional.' Adam Kay, ObserverAt seven months pregnant, intensive care doctor Rana Awdish suffered a catastrophic medical event, haemorrhaging nearly all of her blood volume and losing her first child.
She spent months fighting for her life in her own hospital, enduring a series of organ failures and multiple major surgeries. Every step of the way, Awdish was faced with something even more unexpected and shocking than her battle to survive: her fellow doctors' inability to see and acknowledge the pain of loss and human suffering, the result of a self-protective barrier hard-wired in medical training. In Shock is her searing account of her extraordinary journey from doctor to patient, during which she sees for the first time the dysfunction of her profession's disconnection from patients and the flaws in her own past practice as a doctor.
Shatteringly personal yet wholly universal, it is both a brave roadmap for anyone navigating illness and a call to arms for doctors to see each patient not as a diagnosis but as a human being. 'A brave and eye-opening book.' Mail on Sunday
BIC:
BM Memoirs, MBDC Medical ethics & professional conduct, MBDP Doctor/patient relationship, VFD Popular medicine & health