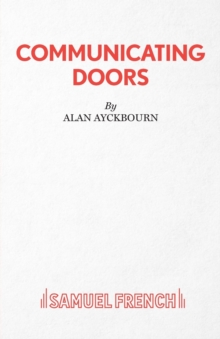 Communicating Doors (New ed)
0573017409 / 9780573017407
Usually dispatched within 2 weeks
The year is 2014 and Phoebe, a prostitute specialising as a dominatrix, is summoned to a sixth floor suite in a London Hotel by an infirm elderly businessman, Reece, who wants her to perform an unusual service.
He wants her to witness a document detailing the murder of his two wives by his business associate Julian.
When Julian walks in, Phoebe disappears through the nearest door and finds herself in an identical suite, but in the year 1994.
Not surprisingly, the suite's occupant, Reece's second wife is sceptical about her explanation.
When Phoeboe goes through another door, and finds herself in 1974 with Reece's first wife, she decides to rewrite the future.
Alan Aykbourne's 46th play, "Communicating Doors" premiered in Scarborough in 1994, and stared Julia McKenzie.
BIC: