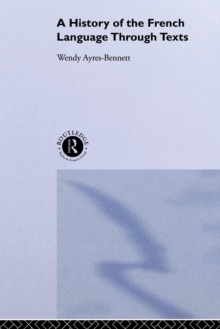 A history of the French language through texts
0415100003 / 9780415100007
Usually dispatched within 4 weeks
In this fascinating new book, the history of French is brought to life.
Features of the language are analysed in readable form, from the 9th century to the present day. 40 short texts are presented and explored from a variety of angles, covering areas such as spelling, grammar, vocabulary and pronunciation.
A wide variety of discourses are covered, including: legal and religious texts literary prose and poetry medical and scientific texts journalism A History of French through Texts is ideal reading for all who are interested in the French language.
BIC: