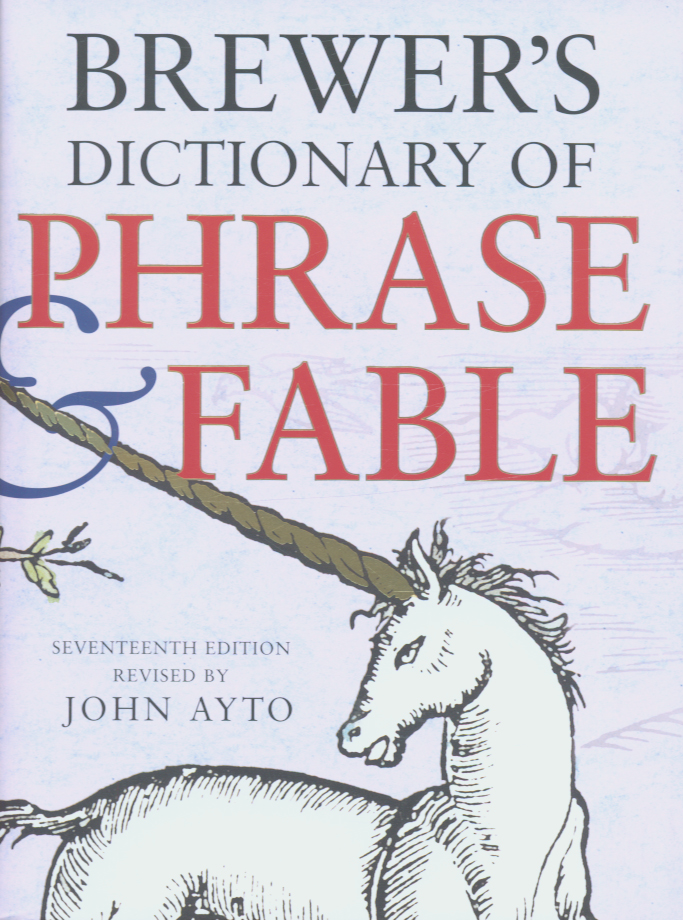 Brewer's dictionary of phrase & fable (17th ed.)
0304357839 / 9780304357833
Usually dispatched within 2 weeks
24 cm xxvii, 1523 p. : ill.
Previous ed.: London: Cassell, 2001.
A brand-new edition of a classic reference book. The first port of call for tens of thousands of terms, phrases and proper names, and a fund of fascinating and out-of-the-way information. 20,000 entries and 1500 pages (including 1500 new entries), make this the biggest - and the best - Brewer's ever. New editor John Ayto is one of the UK's most respected lexicographers, and a specialist in word and phrase etymology. New word and phrase entries include Beckingham Palace, been there done that, compassion fatigue, Disgusted of Tunbridge Wells, frighten the horses and hissy fit. New 'fable' entrie
'...there's never a dull moment to be had with this great, daft, pointless, wonderful brick of a book' - Amazon.co.uk First published in 1870, Ebenezer Cobham Brewer's treasury of 'words that have a story to tell' is one of the world's best-loved reference books. At the heart of the dictionary lie entries on the meaning and origin of a vast range of words and expressions, from everyday English phrases to Latin tags.
For the 17th edition of Brewer's, new editor John Ayto has revised and updated the existing text and added 1500 new articles.
The latter include recent words and phrases (Al-Qaeda, 9/11), characters, places (and monsters) from recent fantasy literature (including The Lord of the Rings and Harry Potter), famous political and sporting nicknames (Butcher of Baghdad, Goldenballs) and - continuing the century-old Brewer's practice of recording unexpected and fascinating information not available in other general reference books - 'list entries' as diverse as misattributed quotations, first lines of novels, French/Spanish/German/Italian idioms and the 'etymologies' of rock group names.
BIC:
2AB English, CBF Thesauri, GB Encyclopaedias & reference works
* Variable discounts between 0% and 15% are applied to items where BBfS cannot determine exact discounts from suppliers.