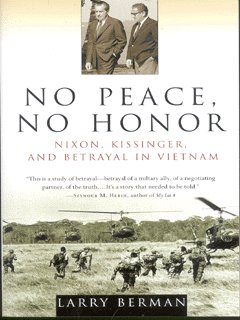 No peace, no honor : Nixon, Kissinger, and betrayal in Vietnam
0743223497 / 9780743223492
general Learn More
research & professional
undergraduate
Reprint. Originally published: Old Tappan, N.J.: Free, 2001.
In this carefully researched, authoritative and highly readable book, Larry Berman unravels for the first time the tawdry endgame in Vietnam.
No Peace No Honor takes readers inside the negotiations that lead to the agreement Nixon famously called 'peace with honour' and reveals that the entire process was a sham.
Through exhaustive, meticulous research, Larry Berman provides conclusive evidence that Kissenger crafted a deal he and Nixon expected and actually wanted North Vietnam to violate because it would allow them to continue the bombing with no threat of a congressional cut-off.
Their secret plans to extend the war, he argues, were aborted only with the onset of the Watergate debacle.
Tracing the step-by-step deception of both the South Vietnamese and the American public from initiatives that began as early as 1969, through the disgraceful peace agreement that cost the country it's honour, this extraordinary book is a benchmark in the literature of Vietnam.
BIC: