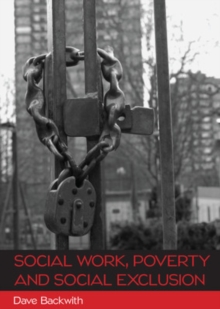 Social work, poverty and social exclusion
0335245854 / 9780335245857
What do we mean by the terms "poverty" and "social exclusion" in 21st century Britain?What impact do continuing austerity measures have on low-income families?
How can social workers support and empower service users to escape poverty?An understanding of social division, social exclusion, and poverty is fundamental to the ethos of social work.
This book relates poverty and social exclusion to social work practice, offering a fresh approach to the challenges social workers face in helping clients out of poverty.The book begins by examining the challenges posed by growing poverty set against cuts in services and tightening eligibility criteria. The book argues that the impact social exclusion and poverty has on service user's lives requires social workers to gain a greater awareness of both concepts and their relationship to social work practice. Chapters consider topical issues such as the role poverty plays in child protection issues, and the dilemmas social workers face in working with asylum seekers.
A theme of the book is inequalities in health: that most service users suffer more illness, disability and premature death, because they are poor and excluded. Focused on what social workers can do in their practice to address social exclusion, the book supports students in developing relationship-based and community-oriented approaches that can actively alleviate poverty.Key features of the book include: Numerous quotations and vignettes give insights into social workers' and service users' real experiences. "What Do You Think?" exercises encourage students to actively engage with the issues and think critically about their understanding of poverty.
Reflective questions are included to spark lively debate around ethics, beliefs and values. This book is essential reading for undergraduate and postgraduate social work students at all levels.
It will also be a key resource for sociology and social policy students seeking an understanding of poverty."Dave Backwith's new book should be required reading for every social work student, as well as by managers, policy makers and experienced practitioners.
Carefully researched and reasoned, it challenges social work to overcome the danger of treating poverty as the inevitable backdrop to practice and to actively address the intimate, daily, damaging impact of poverty in most service users' lives.
Throughout, using frequent telling case studies, Backwith confronts the complexities of practice and asks big questions about the political and policy context of social work." Paul Bywaters, Professor of Social Work, Coventry University"Dave Backwith provides social work with a strong values-based argument for politically engaged practice to address poverty and social exclusion. He advocates for 'making space' to address poverty and social exclusion, with an approach that eschews individual and pathological responses, instead emphasising a community-based and collective /mutual aid orientation.
The book is informed by ecological and health inequalities perspectives and with chapters on children and families, older people and mental health, should be essential reading for all social workers." Kate Karban, Senior Lecturer in Social Work, University of Bradford, Co-convenor, Social Work and Health Inequalities Network, 2010-2014 "This book provides a comprehensive review of theory, research and policy on poverty and social exclusion.
It identifies the forces which have narrowed social work's responses to poor people, and how practice could become more generous and imaginative." Bill Jordan, Professor of Social Work, Plymouth University, UK"Dave Backwith has successfully argued that social workers need to practice with a full appreciation of the impact of poverty and social exclusion on the people who need their assistance. This is, as he argues, essential for all areas of social work. His book therefore represents essential reading for all connected to the delivery of social work, students, practitioners and managers alike." Mark Lymbery, University of Nottingham, UK
BIC: