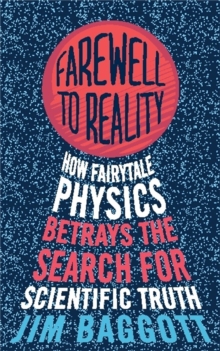 Farewell to reality
1780334923 / 9781780334929
Stock expected by 26/04/2021
22 cm xiv, 338 pages : illustrations (black and white)
Modern physics is heady stuff. It seems that barely a week goes by without some new astounding science story; some revelation about hidden dimensions, multiple universes, the holographic principle or incredible cosmic coincidences.
But is it true? What evidence do we have for super-symmetric squarks', or superstrings vibrating in an 11-dimensional space-time?
How do we know that we live in a multiverse? How can we tell that the universe is a hologram projected from information encoded on its boundary? Doesn't this sound like a fairy story?In Farewell to Reality Jim Baggott asks whether all that we currently know about the universe is based upon science or fantasy.
In addition he wonders whether these high priests of fairy tale physics - such as John Barrow, Paul Davies, David Deutsch, Brian Greene, Stephen Hawking, Michio Kaku, Gordon Kane and Leonard Susskind - are the emperor's latest tailors. Praise for Jim Baggott:A shimmering tour d'horizon.
Quantum theory may deny us the possibility of properly comprehending physical reality, but Baggott's account is smart and consoling.
Kirkus Reviews. Jim Baggott's inspired - and inspiring - idea of presenting the history of quantum physics in terms of 40 key moments works both as an introduction for the uninitiated and as a refresher for anyone who thinks they know the story.
John Gribbin. I never read such a good, comprehensive account as Jim Baggott's...highly recommended.
A.N. Wilson. The best popular science book of the year to date by far. popularscience.co.uk
BIC: