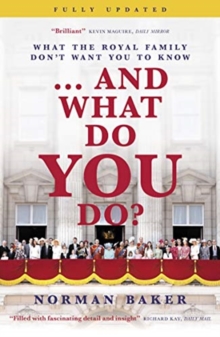 ...and what do you do? : what the royal family don't want you to know (Fully updated [edition])
1785906216 / 9781785906213
Usually dispatched within 4 weeks
20 cm x, 431 pages : illustrations (black and white)
The royal family is the original Coronation Street - a long-running soap opera with the occasional real coronation thrown in.
Its members have become celebrities, like upmarket versions of film stars and footballers.
But they have also become a byword for arrogance, entitlement, hypocrisy and indifference to the gigantic amount of public money wasted by them. ... And What Do You Do? is a hard-hitting analysis of the royal family, exposing its extravagant use of public money and the highly dubious behaviour of some among its ranks, whilst being critical of the knee-jerk sycophancy shown by the press and politicians. By turns irreverent and uncompromising, ... And What Do You Do? asks important questions about the future of the world's most famous royal family.
BIC: