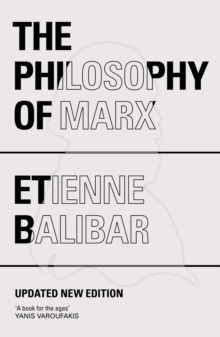 The Philosophy of Marx
1784786039 / 9781784786038
Stock expected by 25/06/2021
129 x 197 mm, 254 grams 240 pages
In The Philosophy of Marx, Etienne Balibar provides an unsurpassed introduction to Marx and his followers.
Written by one of political theory's leading thinkers, it examines all the key areas of Marx's writings in their wider historical and theoretical context - including the concepts of class struggle, ideology, humanism, progress, determinism, commodity fetishism, and the state.
The Philosophy of Marx is a gateway into the thought of one of history's great minds.
In this new updated edition to this now classic work, Balibar has added a substantial new introduction and two new texts, on the Theses on Feuerbach and on Marx's political theory.
Complete with key 'information boxes' for the student to make the most challenging areas of theory easy to understand, this remains the best available introduction to the most important thinker of the past 200 years.
BIC:
HPCD Western philosophy: c 1600 to c 1900, HPS Social & political philosophy, JPFC Marxism & Communism