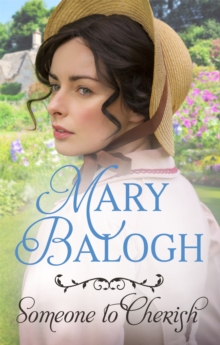 Someone to cherish
Part of the Westcott series
0349423679 / 9780349423678
20 cm 367 pages : illustration (black and white)
'One of the best!' Julia Quinn, Sunday Times bestselling author of the Bridgerton seriesIs love worth the loss of one's freedom and independence?
Mrs Tavernor has always firmly believed it is not. When Harry Westcott lost the title Earl of Riverdale after the discovery of his father's bigamy, he shipped off to fight in the Napoleonic Wars, where he was near-fatally wounded.
After a harrowing recovery, the once cheery, light-hearted boy has become a reclusive, somber man.
Though Harry insists he enjoys the solitude, he does wonder sometimes if he is lonely.
Lydia Tavernor, recently widowed, dreams of taking a lover.
Her marriage to Reverend Isaiah Tavernor was one of service and obedience, and she has secretly enjoyed her freedom since his death.
She doesn't want to shackle herself to another man in marriage, but sometimes, she wonders if she is lonely.?
Both are unwilling to face the truth until they find themselves alone together one night, and Lydia surprises even herself with a simple question: 'Are you ever lonely?' Harry's answer leads them down a path neither could ever have imagined . . . This is the next sparkling novel in the Regency romance Westcott series by New York Times bestselling author Mary Balogh - perfect for fans of Grace Burrowes and Stephanie Laurens. The Westcott Series:Someone to LoveSomeone to HoldSomeone to WedSomeone to CareSomeone to TrustSomeone to HonourSomeone to RememberSomeone to RomanceSomeone to CherishPraise for Mary Balogh 'A grand mistress of the genre' Romantic Times'Balogh is the queen of spicy Regency-era romance, creating memorable characters in unforgettable stories' Booklist'Mary Balogh sets the gold standard in historical romance' New York Times bestselling author Jayne Ann Krentz'A romance writer of mesmerising intensity, Mary Balogh has the gift of making a relationship seem utterly real and utterly compelling' Mary Jo Putney
BIC: