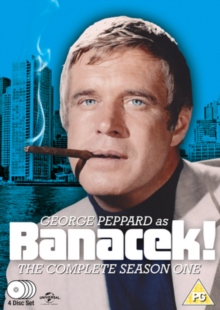 The complete first series of the 1970s US detective drama starring George Peppard as the eponymous Boston private eye.
Thomas Banacek (Peppard) prides himself on his Polish heritage and ability to get to the bottom of even the most complex cases.
But with his occasional lover and perennial rival Carlie Kirkland (Christine Belford) also vying for cases, Banacek will have to be on his toes if he is to remain the go-to P.I. in the city. The episodes are: 'Detour to Nowhere', 'Let's Hear It for a Living Legend', 'Project Phoenix', 'No Sign of the Cross', 'A Million the Hard Way', 'To Steal a King', 'Ten Thousand Dollars a Page', 'The Greatest Collection of Them All' and 'The Two Million Clams of Cap'n Jack'.