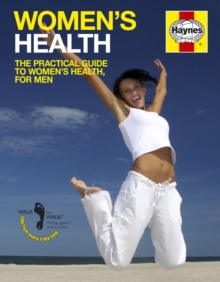 1844258505 / 9781844258505
Usually dispatched within 2 weeks
27 cm various pagings : ill.
This title is intended to help men understand all aspects of women's health.
Dr. Ian Banks brings his unique talent for demystifying medical jargon to bear on topics from anaemia to weight loss, breast cancer to thrush, and all points in between.
The information is presented in a down-to-earth fashion, with a good sprinkling of humour ( Why does only one sperm fertilise the human egg? 'Because all the others refuse to stop and ask for directions'). And who else would have thought of comparing the process of giving birth to the FA Cup Final?
Making sure that the woman's point of view is properly represented, well-known broadcaster and agony aunt Suzie Hayman has read the manuscript, made a few corrections and provided numerous hints and tips.
Everything else you'd expect from a "Haynes" manual is here - technical illustrations, fault-finding charts and reference material.
BIC:
* Variable discounts between 0% and 15% are applied to items where BBfS cannot determine exact discounts from suppliers.