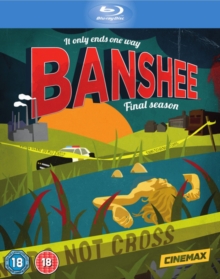 (18) Suitable for 18 years and over.
All eight episodes from the fourth season of the TV crime drama following an ex-con who assumes the identity of a sheriff in the fictional town of Banshee, Pennsylvania.
Having served 15 years in prison following a diamond heist, the unnamed man posing as Sheriff Lucas Hood (Antony Starr) and his crime partner and ex-girlfriend Carrie (Ivana Milicevic) risk having their dark pasts and real identities publicly exposed by the threat of old enemies.
In this series, Lucas comes out of hiding to catch a suspected serial killer after Rebecca Bowman (Lili Simmons) is murdered.
Meanwhile, Brock Lotus (Matt Servitto) assumes the position of Sheriff of Banshee and Kai Proctor (Ulrich Thomsen) becomes the town's new mayor.
The episodes are: 'Something Out of the Bible', 'The Burden of Beauty', 'The Book of Job', 'Bloodletting', 'A Little Late to Grow a Pair', 'Only One Way a Dogfight Ends', 'Truths Other Than the Ones You Tell Yourself' and 'Requiem'.