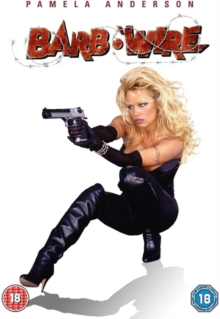 (18) Suitable for 18 years and over.
American action film in which Pamela Anderson stars as tough, glamorous heroine Barb Wire.
In a civil war-torn America in 2017, Barb owns a nightclub called the Hammerhead.
In what is regarded as the last free city, she moonlights as a professional killer and bounty hunter.
When Barb's acquaintance Dr Corrina Devonshire (Victoria Rowell) shows up at the Hammerhead to seek help, Barb must assist her in escaping to Canada to leak information about the development of a biological weapon, before the government stop her.
In a race against time, Barb must acquire a set of hi-tech contact lenses that will help Dr Devonshire to deceive the iris scanners at the airport.
However, Barb discovers that the coveted lenses are currently in the hands of a gang of lowlife criminals, and Barb must extract them before they are sold on to the black market.