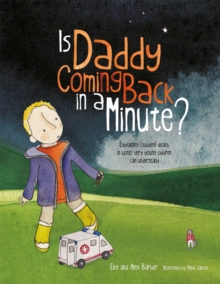 Is daddy coming back in a minute? : explaining (sudden) death in words very young children can understand
1787757641 / 9781787757646
28 cm 40 pages : chiefly illustrations (colour)
Reprint. Originally published: Great Britain: Elke Barber, 2012.
When we were on a No Girls Allowed! holiday, my daddy's heart stopped beating and I had to find help all by myself.
He was very badly broken. Not even the ambulance people could help him... This honest, sensitive and beautifully illustrated picture book is designed to help explain the concept of death to children aged 3-7.
Written in Alex's own words, it is based on the real-life conversations that Elke Barber had with her then three-year-old son, Alex, after the sudden death of his father.
The book provides reassurance and understanding to readers through clear and honest answers to the difficult questions that can follow the death of a loved one, and carries the invaluable message that it is okay to be sad, but it is okay to be happy, too.
BIC:
5AC Interest age: from c 3 years, YBC Picture books, YXG Personal & social issues: death & bereavement (Children's / Teenage)