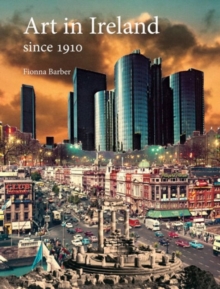 Art in Ireland since 1910
1780235127 / 9781780235127
25 cm 224 pages : illustrations (black and white, and colour)
Reprint. Originally published: 2013.
Art in Ireland since 1910 is the first book to examine Irish art from the early twentieth century to the present day.
In this highly illustrated volume Fionna Barber looks at the work of a wide range of artists from Yeats and le Brocquy to Cross and Doherty, many of whom are unfamiliar to audiences outside Ireland.
She also casts new light on Francis Bacon and other figures central to British art, assessing the significance of their Irishness to an understanding of their work. From the rugged peasantry of the Gaelic Revival to an increasing diversification of art practice towards the end of the century, Art in Ireland since 1910 tracks the work of artists that emerged and developed within a context of a range of very different social and political forces: not just the conflict in the North, but the emergence of feminism and migration as two of the factors that contributed to the unravelling of entrenched concepts of Irish identity.
Barber looks at the theme of diaspora in the work of Irish artists working in Britain during and after the 1950s, investigating issues similar to those facing artists from other former British colonies, from India to the Caribbean. She chronicles a period that culminated with art practice and the sense of Ireland as a nation that would have been unrecognizable to its people a hundred years before. Richly illustrated, Art in Ireland since 1910 is essential reading for anyone interested in modern art, Irish Studies and the history of Ireland in general.
BIC:
1DBR Ireland, 3JJ 20th century, ACX History of art & design styles: from c 1900 -, JPFN Nationalism